I have started a new Butterfly pattern from this series.  It is called Mourning Cloak.
Here is my progress so far.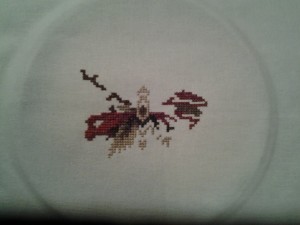 I know it looks like I threw up on my fabric, but it is the beginnings of a butterfly, I promsie.
This butterfly, like the others, is being stitched on 28-count white Monaco using the charted DMC colors.
Originally, my goal for this year was to finish two or three of the patterns.  Since this will be my third butterfly, I hope this is a goal that I will actually meet this year!  Yippee!
Here are my other completed butterflies:
I am thinking about black square frames for them.  Maybe 8×8.  Once I finish 4 of them, I may go ahead and purchase the frames for all 8.  I am anxious to get some of them framed and hung on the wall.