For my YOTA stitching project for the month of February, I spent some time with The Legend of the Dogwood Tree.  This is a project I haven't stitched on in a couple years.  I'm not sure what fabric it is – I believe it is an antique white 28-count loosely woven linen.  The pattern calls for three threads over two.
This is what I started with: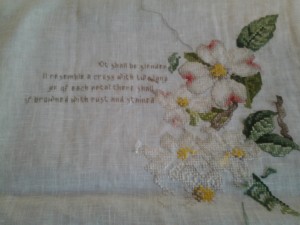 This is my progress as of today: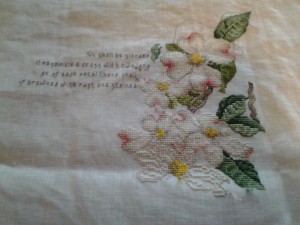 This pattern is not the funnest to stitch as it has A LOT of color changes.  And I am not used to stitching with three threads so it feels strange, but, over all, I am mostly happy with my progress this month.
For March, I will go back to stitching on Home Sweet Home.
See you next month!