It's time for this month's YOTA post.
I have continued to work on The Legend of the Dogwood Tree project.  I didn't get very much done, but some progress was made.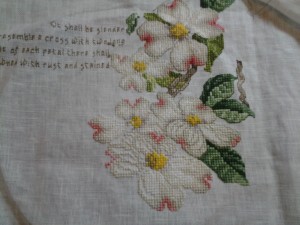 I got some stitches in two of the leaves of the bottom flower.  I know it pretty much looks the same as last month, but I promise there are some new stitches in there!
I was hoping to get more accomplished this month as my progress on this piece has been dismal.  Although I am not fond of the fabric or stitching with three threads, I am beginning to like the project a bit more.  Maybe I can be motivated to work a little harder on this one.
Happy 4th of July!