Last week brought the International Quilt Festival to town.  YIPEE!!  I look forward to this event every year!  I take a day off work to walk around ogling at the beautiful quilts and spend way too much money.
O happy day!!!!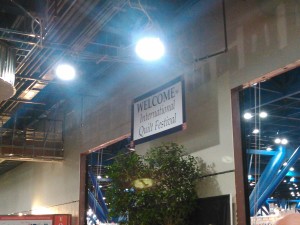 Waiting in line to get in . . .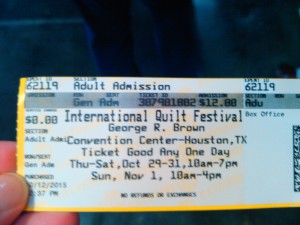 So excited!!!
I walked around the quilt display side first.  Unfortunatley, most of the displays do not allow photography, so I couldn't take pictures of most of the quilts I saw.
But I did snap a few photos of some absolutely awesome "dinners."  This was a display of 3-dimensional fabric "place settings" and "dinner food."  ALL. MADE. FROM. FABRIC.
These were my favorites.
You have a steak and baked potato . . .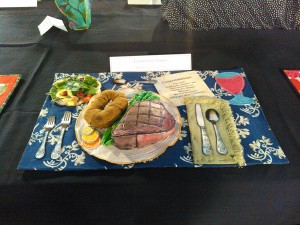 Pancakes, bacon, and eggs . . .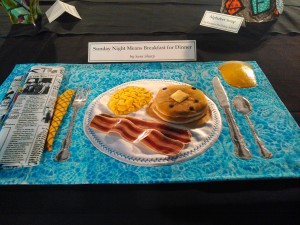 And last, but not least, crab and oysters . . .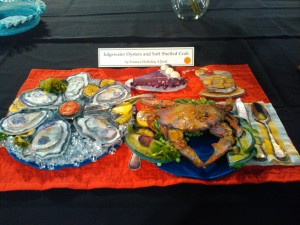 Remember these are not real food.  They were all made with fabric, beads, plastic, and other crafty little things.  I was amazed at how real some of them looked!
And this was a quilt little owl quilt I thought was too cute! Wink, Wink!
And then on to buying stuff.  And, boy, was there stuff!!!  Lots of ohhhs and ahhhs, and Look At This, and I Want That!!!  This what I managed to hold myself back to.
Some fabric bundles . . .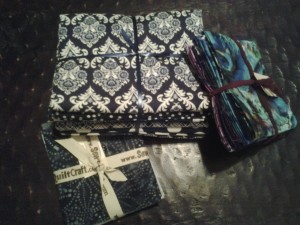 A few cross stitch charts from my favorite booth "The Silver Needle" out of Oklahoma . . .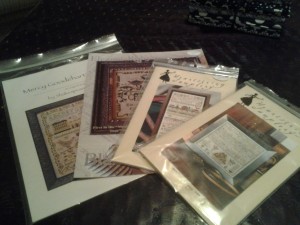 And one quilt pattern . . .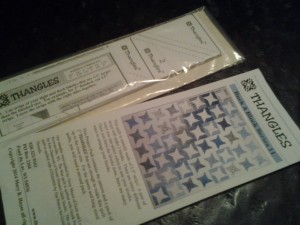 A good time was had by all!  Quilt Festival is my favorite day of the whole year!
I'm already looking forward to next year!