This is one of the projects I wanted to start (and finish!) this year – Loose Feathers by Blackbird Designs.  It was originally released in 2011 in three separate pamphlets: Summer, Autumn, and Winter.   I picked up all three at Quilt Festival this past fall from The Silver Needle booth.  I just love visiting their booth every year during Quilt Festival and looking at all the goodies!
The chart calls for using Cresent Colors and Gentle Arts thread, but I chose to go with regular old DMC thread.  Only because I am lazy and it is easy for me to find and I have almost every color.  I went to my local needlework store and picked up a piece of 32-count Mushroom Lugana.
Here is my progress after a few days of stitching: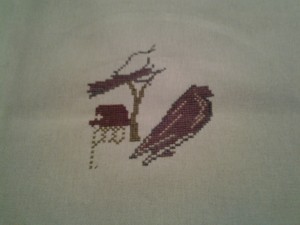 I have enjoyed stitching this chart so far.   I always begin stitching in the middle of a pattern so I am currently stitching the birds in the "Autumn" chart.