Yay!!  I finished my daughter's quilt!  And it's ONLY 6 months late.  Better late than never.  (I have another one for her I began about 4 years ago that is still not finished.)
I was supposed to have this quilt ready for her when she went to school in August.   Obviously, that didn't happen.  But I'm sure she will be happy that she will get it now – just in time for the cold weather.  It is her school colors – Navy and Gold.   I've been debating on it's name – School Colors or Blue&Gold.   Pretty inventive, huh?  I think I am going to go with Blue&Gold.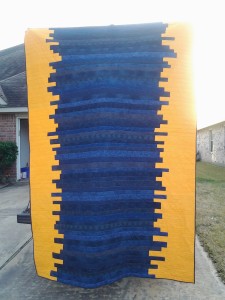 FRONT

BACK
I didn't use a pattern for this.  She had seen a picture of a quilt in a magazine and like it, so I had to "wing it."  I hope it is the right size to fit her bed.  I think it may actually be a little big.  But I would rather it be too big than too small.
It just has straight "stitch in the ditch" quilting.  I tried to keep it simple so I could actually finish it in this century.
I am really happy with how it turned out.  I just hope she likes it!
Now, I have to wash it and then it is ready to be mailed!