Snowman Joey is almost finished!   I just have a little more to stitch on his scarf and some back stitching.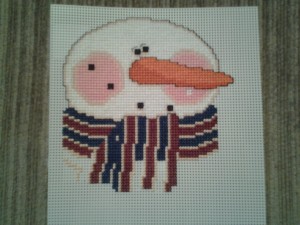 I already have the black felt I plan to use to back these ornaments.  So, once the stitching is complete, it won't be too difficult to actually finish Joey and his brother Rallie into real ornaments to hang on the tree.
I have not gotten nearly as much done on these as I had wanted.  I wanted to finish all 5 of the snowmen this year, but it looks like there may only be two to hang on the tree!  I still have some time to maybe knock out one more before Christmas, but didn't I say just the other day that I needed to trim down on my open projects??