YOTA: Year Of The Acronym
In my many hours spent searching The Interwebs for like-minded cross stitchers, I stumbled upon a blog called Pull The Other Thread.  On this blog, she has a wonderful yearly UFO SAL, which she lovingly named "YOTA."
________________________________
Here are the guidelines for the SAL directly from the PTOT YOTA post:
"Once a month – the first Saturday – will be YOTA post day. If you want to join in just post before and after pictures of any UFO projects you are working on. I will work on one UFO at a time and if I finish one I will move onto another.
I will work on it whenever I get a chance in any one month but anyone who wishes to join can do as much as they feel they want to on their projects.
If you have some UFO's which are not stitching but knitting, quilting etc. and want to join in with those then feel free."
To read more about YOTA visit:  http://pulltheotherthread.blogspot.com/p/yota-year-of-acronyms.html
________________________________
Since I joined in the middle of the month, I missed the January YOTA post day, but for the rest of the year I will post my progress the first Saturday of every month.
For my YOTA 2015 projects, I picked two WIPs that have been languishing about for some time now.
Here is the first one that I want to finish.  The pattern is  "Home Sweet Home" by La-D-Da designs.  I started this about 2 years ago and worked on it for a few weeks and then moved on to something else.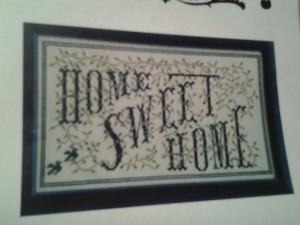 Here is my progress as of today.  (Please forgive the crease lines.)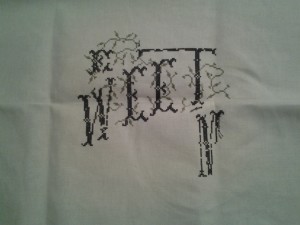 The second WIP designated for the YOTA will be The Legend of the Dogwood Tree.  In preparation of this post, I was digging around in a box of cross stitch stuff looking for a wedding sampler that I started a few years ago and came across this pattern.  I had completely forgotten about it.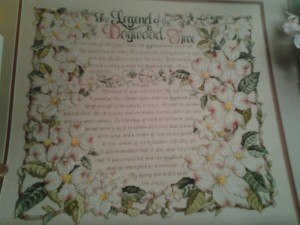 I didn't have time to search for the actual project before this post, but I don't think I am very far into it.  If I remember correctly, it is maybe 20% completed.  I will dig around some more and post a picture of it at a later date.
THE PLAN:  My Plan is to work on the Home Sweet Home (HSH) project until the end of June.  The goal is to finish the stitching by the end of June, but if that doesn't occur, I will just switch to stitching on The Legend of the Dogwood Tree (TLOTDT) on the first of July and put away the other.  With that being said, I can't guarantee what is acutally going to happen.  Sometimes, The Plan goes awry.  I may get tired of stitching on HSH and want to change gears during March.  Who knows?  Definitely not me!
But it certainly makes my OCD mind feel better to have The Plan in place.  If The Plan goes off course, I will just readjust and continue on.
Happy Stitching!