I have made quite a bit of progress on my Joey snowman ornament.  At my last post of Joey, he was just a forehead, half a cheek, and half a nose.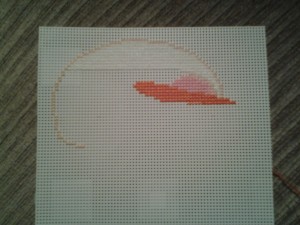 Here he is now with two eyes and his nose finished.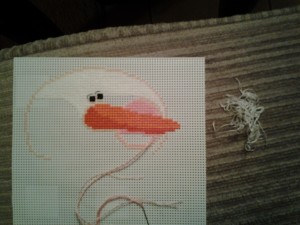 If you look carefully, you will see a white pile of threads to the right.  That is what I had to remove between the cheek and eyes because I had stitched it incorrectly!  ARGH!!!  I hate un-stitching because I'm not paying close attention.  Unfortunately, I have been doing quite a bit of that lately.  Usually, I catch myself early and only need to remove a few stitches, but lately, it has been a frog-fest.
I am not stitching as fast as I need to complete my goal of finishing all 5 snowmen before Christmas!  I need to pick up the pace and get to stitching!