I needed to pick up some white fabric to make my "sashing" hexies for my Hexie Quilt.  So, it was off to my local quilt store! Yay!!
I picked up some Moda White.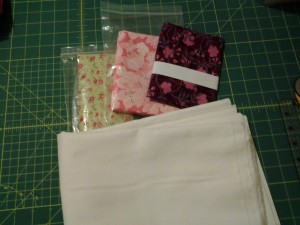 And while I was there, I just had to take a look at the scrap bin!  I found the pink and green fabrics while digging through the mountain of scraps.  I had a hankering for something purple, so I also picked up a purple fat quarter with pink flowers!  My 7 year old son, who was with me on the shopping trip, helped me pick that one.
I had so much fun looking at all the fabric!  The quilt store is one of my very favorite places!
I have made more progress on my hexie diamonds.   Here are the three most recent completed diamonds.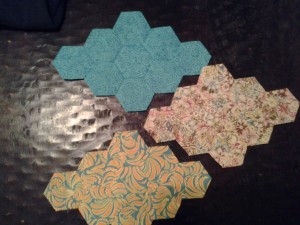 In looking at my stash fabrics pulled for this quilt, you can tell my favorite color is blue!  Most of the fabrics are blue or have blue in them!  That is one reason I picked up a few new fabrics today.  Although I was trying to only use fabrics from my stash for this quilt, I wanted to make sure I have a variety of colors and it doesn't turn into a blue quilt.